2012 MLD North American Championships
Sadly, this event has been cancelled due to unforscene circumstances. We hope to be able to bring this event back in 2013, and if we do it will be in Nashville again. Thank you for those of you who did register.
Major League Darts (MLD) will be hosting the 2012 MLD North American Championships, a 2 day steel tip dart tournament for Men, Women, and Youth (Under 21), in Nashville, Tennessee, Nov 30-Dec 2, 2012.
Open Championship ($3,000 1st Guaranteed)
Ladies Championship ($1,500 1st Guaranteed)
Under-21 Youth Championship ($500 1st Guaranteed)
B & C Division tournaments
Pro-Am on Friday
Saturday will be a seeded round robin, Sunday will be the long format knockouts.
Qualifications into the Championships will be based on performances in MLD 1-day Local tournaments held between 15 Sep 2011 and 30 Sep 2012 in each players designated MLD region. Participation in an MLD Local event is not required to participate in the tournament.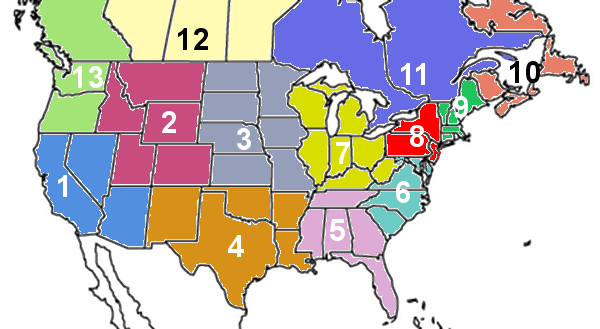 There will be 13 regions in North America to help facilitate local events, regional competitions, and information exchange. Regions have been configured to match natural divisions within North America. Regional borders will mainly be on state or provincial borders. A player's individual region will also include any states or provinces which touch the state or province the player lives in.
Example 1: A player's region living in Missouri will include anything in the gray #3 region AND Illinois, Kentucky, Tennessee, Arkansas, and Oklahoma.
Each region will have a Regional Coordinator acting as the main point of contact for that region regarding scheduling of 1-day Locals and as a liaison back to the MLD main office.
Qualification for the MLD North American Championships will be based on a player's top 3 performances in qualified MLD 1-day Local tournaments.
Top 2 point earners in each region based on their best 3 performances will earn a FREE entry.
The next 6 highest point earners across all regions will also earn FREE entries as "wild cards".
The #3-5 finishers in each region will pay $100
Participant of an MLD local or affiliate tour event: $125
Any North American resident can enter the championship even if they did not play in an MLD event. $150
MLD locals are 1 day long format singles tournaments that can be held at any venue with 3-10+ boards. MLD provides the software to run these events. Players play a minimum of 18-24 legs of 501 on the day. To host a 1-day MLD Local tournament, contact your Regional Coordinator for more information or the main office.
Dart Players New York (DPNY), and the PDC North American Pro Tour (PDCNAPT) events all earn points towards the MLD North American Championships.
MLD encourages the hosting of Ladies Only 1-day Local events. A separate rankings list will be kept for the Ladies Only events. Should a woman qualify through the Ladies rankings list, they will have a spot in the Ladies field at the 2012 MLD North American Championships. If a woman qualifies through the Open rankings list, then they will have a choice of the Open or the Ladies tournament, but can only play in one.
Point totals can be earned from qualified MLD local tournaments between Sep 15, 2011 and Sep 30, 2012.
FREE spots go to individual players who earn them; it does not move down if the top 2 cannot make it. Players must commit and register by Oct 31, 2012 if you have a free or reduced entry into the MLD North American Championships. After that time, registration will be full price. Must play in a minimum of 2 qualifying events to earn the FREE and discounted spots.
Entry Deadline: Thursday November 8th 2012
There will most likely be additional competitions, for players of all playing abilities, held during the2012 MLD North American Championships weekend, full details to follow.